Master Chu Shong Tin Rare Limited Wing Chun Kune DVD
(Tsui Sheung Tin) 徐尚田

Master of Internal Wing Chun Kung Fu, Chu Shong Tin, teaches you Sil Lum Tao, Chum Kiu, Biu Jee, Luk Dim Boon Kwan, and Bot Jaam Do, and the Mook Yan Jong in one High Quality DVD!
Dear Friend,
I'm not going to say much about this DVD, because it is very rare and will most likely sell out before the end of the week. Only a limited number made were made when Chu Shong Tin was in bad health and wanted to preserve the legacy, and I'll be lucky if I can get my hands on the last few. I only have a few in stock at the moment! It is becoming an extremely rare collectors item for sure.
When I first saw this DVD I thought it was one of the most beautiful DVDs I've even seen. Whoever made it did an absolutely fabulous job. Although I don't speak a bit of Chinese (Cantonese I believe) , I've watched the DVD several times and have always gotten some great tips from the demonstrations alone. And I'm not kidding about this - you can learn quite a lot by just watching unless you are just clueless about Wing Chun.
The entire core of the Wing Chun system by Yip Man's 3rd Disciple on one awesome DVD.
Master Chu covers all three empty hand forms: Sil Lum Tao, Chum Kiu, and Biu Jee, and then covers the wooden dummy, the long pole, and the swords. The DVD is over 2:45 hours long. Never has there been a DVD with this much information packed in.
All of the original copies are pressed DVDs in PAL format, and are in Chinese with no translation (I'm currently working on getting a translation to provide with the DVDs). For a limited time only (and only by request) I'm considering providing an NTSC DVD-R copy of this DVD with the purchase of the original. That way you can view this awesome DVD if you are in the States, but you'll have to ask me for it. Most cheap DVD players in the US can handle PAL videos now.
This DVD is over 2 hours and 45 mins long!
This rare DVD is in PAL format, but like I said I can provide a NTSC duplicate with the purchase of an original for North American Viewers.
Ving Tsun Athletic Association Conference VCDs
(VTAA VCDs)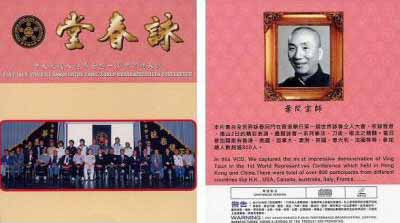 Double VCD containing two hours of mind-blowing footage of tons of Wing Chun masters, chi sao, and sparring!


Dear Wing Chun Student,
This VCD captured some of the most impressive demonstration of Wing Chun Kung Fu during the 1st ever World Conference which took place in Hong Kong and China. There were a total of over 800 participants from different countries.
Contents:
Introduction: Wing Chun and Ip Man's life by Ip Chun, Tsui Seung Tin (Chu Shong Tin), Sui Yuk Men and Ip Ching.

Sil Nim Tau performed by Tsui Seung Tin (Chu Shong Tin)

Demonstration of Lim Lek by Tsui Seung Tin (Chu Shong Tin)

Chum Kiu performed by Siu Yuk Men

Self defense applications by Sui Yuk Men

Bil Tse performed by Ip Ching

Blindfolded Chi Sau demonstration

Six and a half foot point staff demo

Fighting applications demo

Double Butterfly Knives demo

Chi Sau fighting

Wooden Dummy demo

Ip Chun chi sau fighting with students, including Sifu Shaun Rawcliffe

Full Contact 'San Shou' fighting using wing chun concepts.

Hawaii Wing Chun Kung Fu Association (Wooden dummy, hand form, fighting)

Sifu Lampis Paolo from Italy chum Kiu

Sifu Tony Barkados from Australia

Sifu Dean Jones from Africa, Chi Sau and Lut Sao free fighting concepts

Chinese parade, group trip to Futsan, China where Ip Man lived.

Wing Chun Demonstrations, forms, chi sau fighting, master's demo Lion Dancing show and much more!!!
There are only a few "legit" sets of these VCDs left. Quantities are very limited! Video is in English and Chinese, and is professionally made.