Wing Chun Dummies (Mook Yan Jong)

Buick carries one design of Wing Chun Wooden Dummies, but in many unique woods. Dry Wood Dummies, and the super rare Marble Wood Dummies are the most popular, but in more recent years he has made dummeis from: Lychee Wood, Teak Wood, Peach Wood, Tiger Marble, Camphor, Dog Fruit, Yellow Core, Temple Pillar, Kopak, Mahogany Wood, Maple Wood, White Jade Orchid, and more! Prices for these woods range from $999 to $3499... but ocasionally Everything Wing Chun will have Buick Yip Wing Chun Dummy Sale for 10-15% off (if you are very lucky)!

Buick offers only the highest quality woods and craftsmanship. Orders for 5-10 dummies are usually placed at time. It is not unusual to find these dummies being resold for well over their retail price (assuming good condition)! Get yours today while they are still available, because the wood is hard to come by, and any of them could be discontinued at any time! Not to mention that Buick is set to retire soon.
The measurements of the dummies are actually copies from an original Wong Shun Leung dummy. But the dummy has over dozens of measurements, but the basic measurements are:

(1) Diameter - 21 cm
(2) Length - 1.4 meters
(3) Arm length - 29.5 cm
(4) Distance between two top arms (from middle of arms tip) - 21 cm when
open, 19 cm when close.
(5) From top of dummy to top of 1st opening - 25 cm
(6) From top of dummy to top of middle arm opening - 55.5 cm
(7) Dimension of arm holes - 4 cm
(8) Arms tip - 3.5 cm
(9) Arms base - 5.5 cm
(10) Top of the dummy leg from end to centre of knee is 30 cm.
(11) from centre of knee to bottom is 42 cm.
(12) Cross section of the leg is 7cm X 8 cm (appx.), and part at the knee is slightly bigger.

Average Weights*:
60-88 lbs (~27-40 kg) for kapok wood dummies
99-115 lbs (~45-52 kg) for dry elm wood dummies
115-125 lbs (~52-57 kg) for teak, mahogany and peach wood dummies
120-135 lbs (~55-62 kg) for marble wood dummies
120-145 lbs (~55-65 kg) for tiger marble wood dummies
120-155 lbs (~55-70 kg) for lychee wood dummies

*arms legs and slats account for about 12 kg.

The weight varies based on density of the wood used: every tree is different. These weights are only a guide and not a guarantee.
RARE Marble Wood Dummies:
The marble wood dummies weigh 70 kgs (twice as heave as the dry wood dummies) and they are grown twisted from very cold mountains from Japan, that's why they have a marble look character, these dummies are rationed to 1 set per order, mostly to Sifus only. They are very HARD, and very RARE. Please note the wood is harder and harder to secure. Price is rising at about 75% a year so far.

(Note: some of the dry wood dummies are also pictured with the marbles ones in these pictures).



Marble Dummy on Stand Prototype. A jong well used.
(Note arms are in wrong, so they look uneven)

Temple Pillar Dry Wood Dummies:
Average weight of the dry wood dummies are about 35 kgs. The material is very common in China in making heavy castle doors and pillars for temples. The material I use to produce these dry wood dummies are from old pillars which they used to serve for temples and pagodas. I can assess to them because new China is taking down a lot of old constructions to make way for new constructions. These pillars are at least twice in diameter and the dummies are rolled down to the size of 21 cm in diameter. They are perfectly dried and the virtue is they will not create cracks like fresh commercial wood which due to rapid reduce of water contents in dry Winter climates in many regions of the world. The material is a Chinese plant, which I still haven't found the English translation for it yet, but we use extensively in history, for pillars of temples, castle doors, etc., such material had proven it's everlasting nature. See pictures below of some of the doors:
The measurement of all the dummies are based on a Wong Shun Leung dummy made by Koo Sang, which is closest to the original measurements, lots of those in the market were made without reliable measurement sources.

The leg of the dummy is made of marble wood or lychee wood, because the wood has a natural twist nature, the legs are in one piece and can stand kicking in practice without giving up.

Various dummies in the market are available in different forms, the ones I checked are half dummies, PVC dummies, or sandwich wood dummies. Solid one pc. wooden dummies are scarce or real expensive. I am still having intense demand from all over and many of them are repeating orders from those that appreciate what they're getting. The dummy arms are 30 cm length, I don't usually sell arms and legs separately, however if they can break the arms I will replace them by postage at no extra cost.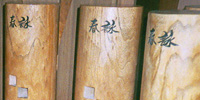 (optional dummy mounting frame pictured here.)













---
For Wholesale orders there is a 5 Dummy minimum order due to shipping restraints.
(If you are interested in just one, they are now sold through Everything Wing Chun).
Contact info@buickyipwingchun.com for a wholesale quote.
SUPER SAVINGS PACKAGE!!! Get free shipping on any Wooden Dummy Frames, Wing Chun Boards, or Wing Chun Long Poles you buy with one of these packages!
5 Dummy Set (4 Dry Wood and 1 Marble) - Save $200 off regular prices! Get 4 dry wood dummies and 1 rare marble dummy shipped to your location. (Shipment arrives at local warehouse, you must arrange pickup from there; depending on your location at an import tariff might apply (write for details)).
5 Dummy Set (5 Dry Wood Dummies) - Save $200 off regular prices! Get 5 dry wood dummies shipped to your location. (Shipment arrives at local warehouse, you must arrange pickup from there; depending on your location at an import tariff might apply (write for details)).
---
Once you have selected one of the above packages you can then add more dummies, stands, or long poles to your order (free shipping).
Extra Dry Wood Dummy (Muk Yan Jong) (very dry wood, crack free) - (Includes 2x1.5 meter horizontal bar). It takes about 4-6 weeks to make and 4 weeks to ship.
Extra RARE Marble Dummy (Muk Yan Jong) (very rare and limited) - (Includes 2x1.5 meter horizontal bar). It takes about 4-6 weeks to make and 4 weeks to ship. Note: Only 1 of there is available for every 4 dry wood Dummies ordered.
---

Wooden Dummy Wall Mounting Frame
These sturdy Dummy Frames are designed to be mounted on any sturdy wall. They connect to the wall with three bolts each (not included). See the pictures of the mounted dry wood Dummy above for a closer look.
---
Countries with 30 kgs. capacity:

Austria, Azerbaijan, Bangladesh, Brazil, Canada Cayman Islands, Costa Rica,
Cyprus, Czech Republic, Denmark, France, Germany, Japan, Ryukyu Islands
(part of Japan), Jordan, Liechtenstein, Macedonia, Nigeria, Philippines,
Serbia and Montenegro, Singapore, Switzerland, United Kingdom, Yemen.

All other countries including USA and Australia are only 20 kgs.


Note:
Shipping From China is included in prices, but import tax, landing charges, unloading charges, etc are not (usually no more than a couple hundred dollars total). Write for full custom quote to your area. We may have an extra dummy for US customers only, shipping not included in this price. Contact us for more info.

Not Sure which dummy you want?
If you are not certain which wing chun dummy you should go about getting you should contact us directly. If you are looking for 3rd party information we suggest you see WingChunGeeks.com buying guide.